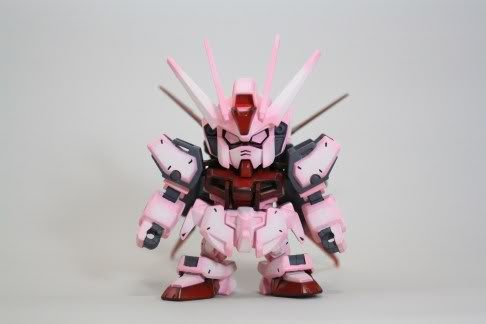 Another kit with a custom colour scheme, the SD Strike Rouge Gundam. I've used the left over mixed paint from the MG Strike Rouge for this kit. The one thing that I really love about SD kits is their big heads. The head of 1/100 kits are relatively small, so I have to get closer to see the details. Whereas for SDs, their heads are so big that you can see the design without much effort, albeit a "deformed" version of the original design
This kit is originally the SD SWS (Striker Weapon System) Strike Gundam. I've used the Aile pack and paint it as a Strike Rouge. The extra weapons and armour will be used for my other Strike.
I built this SD Strike Rouge simultaneously with the MG Strike Rouge, as what I would normally do if I had both the SD and MG version of the same model. This would be convenient especially if you had some custom mixed colors ready. Besides, working on an SD kit is a good way for me to kill some boredom, its like taking a mini break from the tedious work of MG kit building.
Nice back pack. Again, just like the MG version, its back heavy. Still stunning nonetheless.
Overall, this is a nice kit with an updated SD design. The newer SD kits are like this one, they have longer arms and legs so the kits are more detailed and articulate. Comes with bigger heads too.
I'll be building another SD Strike in the traditional white/blue scheme. Just love the SD Strike Gundam.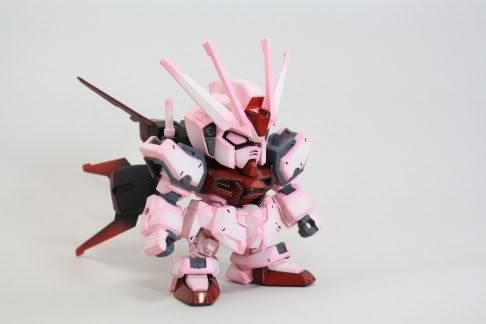 I have ordered some decals for this kit and will work on them once I have the mood. At the moment I'm still working on its weapon and shield, they were left undone for many years. Once done, I'll post part two of this baby.