A SD version of the Nu Gundam. This is my very first SD kit, it was built and painted in 2001. A very well designed kit. Being one of those earlier kits that I've built, I kinda messed up the painting. I've used black for the shading, therefore the kit is darker than I would want it to be.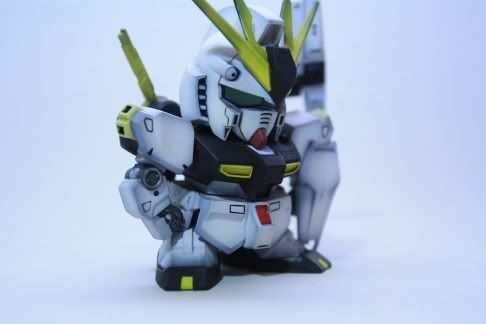 I didn't paint the tiny details as well, like the "V" logo on its belt and the yellow bits on its funnel. There are some over spray and some paint chip on the V fin too. I'm too lazy to fix 'em. Anyway, I have another Nu in the box, so I'll probably convert this to the Full Armour Nu and build another Nu with a brighter colour scheme.
There are two versions of the SD Nu Gundam by the way. This is #209 of the SD series, the other earlier version is not so nice.