This is the Master Grade Ingram 1 from the Patlabor series, my 3rd Master Grade model built some years ago. Here, the Ingram is posed with its right hand extended to reach its gun. I forgot to take a closer view from the side where you can see the gun more clearly.
This kit came with minimal weapons, just a revolver and a baton. On the bright side, you get two figures, one pilot in cockpit position and one officer in standing position. Again, I forgot to take a close-up shot of the pilot. If you look closely, you can barely see her head in the above picture (below the Ingram's head). Anyway, I will take some more photos and update this post in the near future.


This is a very nice kit, the design is marvelous and the proportion is good. The original decals that came with the box is very nice and easy to work with.
The iconic side view of the Ingram.
Being an older MG kit, the Ingram 1 doesn't have the inner frames you would see in more recent MGs. Without the inner frame, this kit is not very articulate. Check out the panel lines, this was the first time I've used the capillary technique to paint panel lines on some parts of the head and torso.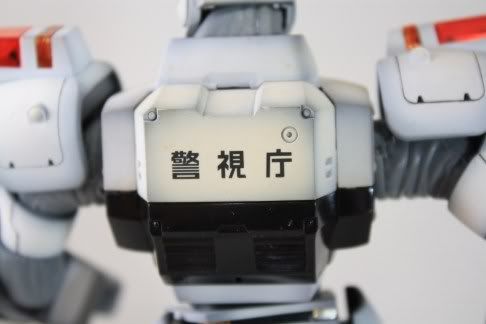 After some time, some parts turned yellowish due to high humidity. You can see some paint chips here as well due to rough handling.
The star on the chest was repainted with black, drybrushed with gold and then finally coated with clear coat because I didn't like the orignal shiny gold chrome-like colour that came with it. You will notice that there are some yellow spots on the kit, those are also the result of high humidity in my cabinet. These days, I use Thirsty Hippo dehumidifier to maintain dryness in the display cabinet.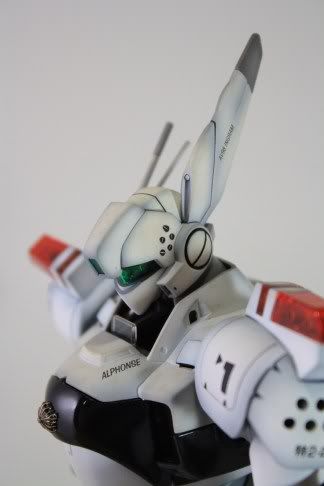 Another angle of the Ingram. Since some parts of the kit had already turned yellowish, I may eventually weather this kit to create a more consistent colour scheme and build a diorama for it.
At this time of writing, I have both the MG Ingram 1 and 2. I hope Bandai will eventually release the Ingram 3 movie version, which in my opinion is better looking than the TV series' Ingram 3. Great kit, and I will give my recommendation without hesitation especially to Patlabor fans.